THE PRENTICE APPROACH
SCIENCE & SCIENCE LAB
The Prentice School offers Next Generation Science Standards (NGSS) curriculum.
Grades 1 - 5, students attend Elementary Science and engage in frequent hands-on science experiments and labs to promote active learning. Students are exposed to scientific language and encouraged to view the world through a scientific lens. It is a time for exploration, discovery and critical thinking.
Grades 6 - 8, students attend Science Lab and study Earth Science, Life Science and Physical Science. Classrooms employ interactive science simulations, hands-on labs and activities. The science instruction is enhanced by research projects and collaborative learning experiences. Explicit instruction and support in note-taking, organization, and study skills are integrated into daily lessons.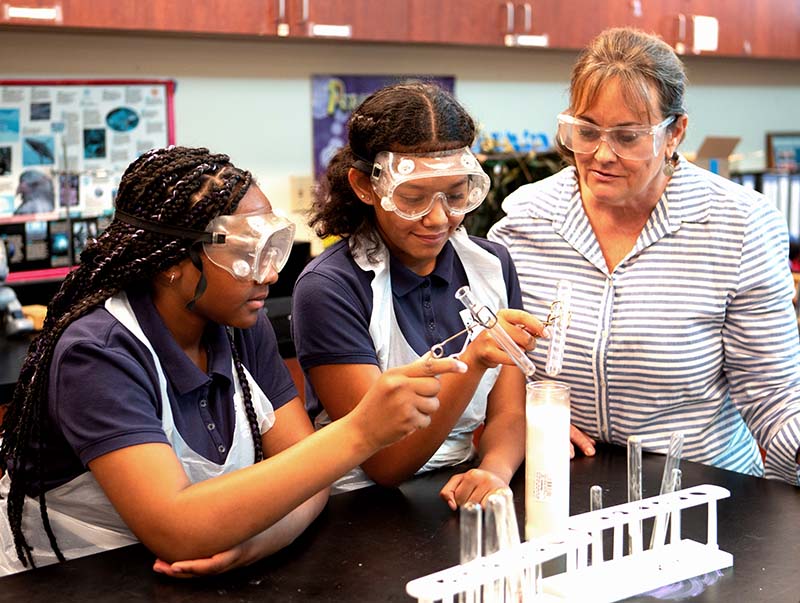 The Prentice School
Take a tour of our Science Building!
Mrs. Zippwald will take you on a tour of our Science Building including our Science Lab, Greenhouse and our Gardens.
During the year...
Grade level specific events and projects in Science throughout the school year
6th Grade Outdoor Education
6th Grade Science Camp in the local mountains
7th Grade Catalina Island
7th Grade Biology Camp on Catalina Island
8th Grade AstroCamp
8th Grade Science and Space Camp in the local mountains
Prentice Science Fair
All students are encouraged to participate in our science fair.
Prentice Botanical Gardens
Students grow fruits and vegetables in the Prentice Botanical Gardens, located behind the Science Building.